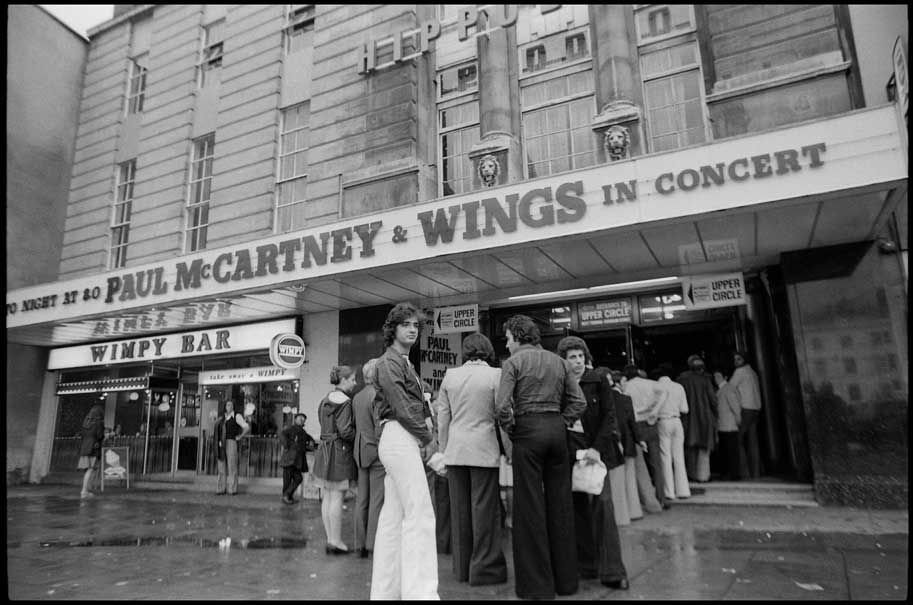 The 1975
Wings Over The World
tour kicked off September 9th, 1975 at the Southampton Gaumont. From the start, it was a more polished and professional act than Paul had taken out in a decade. The addition of a four-piece horn section added dynamics and color to the sound, the lighting and stage effects were top-notch, and most importantly, Wings now had a long string of chart hits and successful LP tracks to choose from. This meant Paul could have his cake and eat it too, allowing him to sprinkle in a few Beatles tunes without being accused of cashing in on past glories.
The tour passed through Bristol, Cardiff, and Manchester, where Granada TV's Tony Wilson
interviewed Wings
in their dressing room on September 12th. Three nights later, the band returned to Paul's hometown, playing to a sold-out crowd at the Liverpool Empire. This time, it was German TV's
Treffpunkte
interviewing Paul backstage. A bit of the conversation was repeated December 6th, 1976 on
Phonzeit
, which also aired a bit of "Blackbird" from the tour, and the "Letting Go" promo clip (possibly shot September 21st in Glasgow).
Director Tony Palmer had produced a critically praised look at the rock scene back in 1968,
All My Loving
, which had included interviews with Paul and Ringo. Now he was working on a greatly expanded 17-part documentary series,
All You Need Is Love
, whose scope included the history of popular music stretching back a century.
Naturally, the Beatles occupied much of one installment, and Palmer filmed
a new interview
with Paul to sit beside the older clips. It was most likely shot in Liverpool on September 14th or 15th, and the episode, which aired May 14th 1977, closes with a performance of "Yesterday" probably from the Empire show:
The tour wrapped with four performances in Scotland, covering Edinburgh, Glasgow, Aberdeen, and Dundee. At one of these stops, French TV interviewed Paul and Linda backstage for the show
Vous Avez Dit Bizarre?
The report, broadcast December 4th on Antenne 2, included a live performance of "Letting Go", different from the promotional clip for the single (which doesn't seem to be on YouTube anywhere):