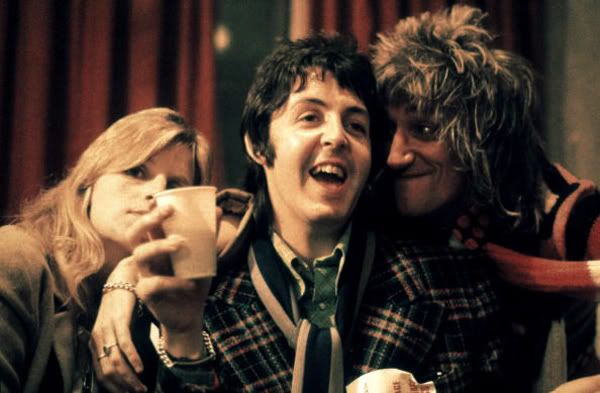 In November 1974, Paul McCartney and Wings settled in at EMI's Abbey Road Studios to begin recording their next album,
Venus And Mars
. On the 6th, the day's "session" was actually a ruse to lure boxer John Conteh to the location in order to spring Eamonn Andrews and his big red
This Is Your Life
book on the pugilist.
Paul and Linda had been close friends with Conteh, who
appeared
on the
Band On The Run
album cover; in turn, they had attended his Empire Pool bout on March 12th, congratulating him on his victory afterwards. So it was easy enough to convince him to participate in a photo shoot at Abbey Road, where the TV camera crew waited. Wings went through the motions of rehearsing "Junior's Farm" as John entered:
The EMI sessions only produced a few numbers for the LP, such as "Letting Go", "Love In Song", and Jimmy McCulloch's "Medicine Jar". Part of the problem was that drummer Geoff Britton wasn't a good fit with the other band members, whose recreational drug use ranged from casual to heavy. Britton was a health fanatic and a karate practitioner who frowned on such activity. In fact, his participation in an Amateur Karate Association tournament on November 11th was filmed by MPL in London. The film, titled
Empty Hand
, included a soundtrack of "abstract percussion" contributed by Paul. It was completed in 1976 or 77, but doesn't circulate.
One gem from the November Abbey Road sessions was this superb alternate take of the song "Rock Show":

Wings' other task that month was to promote their new single "Junior's Farm", taping a TV appearance on Top Of The Pops November 20th for airing the following night. This clip was considered lost until it surfaced in the 2001 Wingspan documentary; the full performance was released on the McCartney Years DVD in 2007.
Paul and Linda closed out the month on November 27th by making a surprise
guest appearance
at Rod Stewart's Lewisham Odeon concert. The show was being filmed for the US TV series
Midnight Special
(aired April 25th, 1975); their cameo amounted to brief backing vocals towards the end of "Mine For Me", Paul's song for Rod's recent LP.