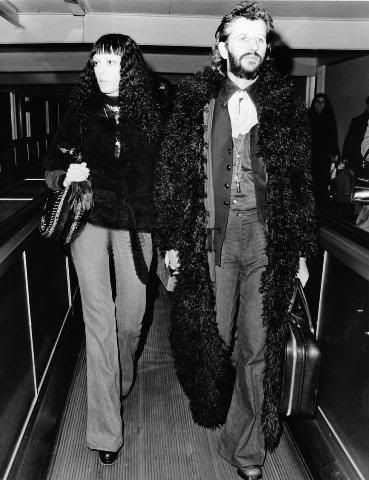 During the course of 1972, Ringo had become fast friends with Harry Nilsson and his producer, Richard Perry. When Ringo decided it was time to record his first solo LP of pop/rock material, he turned to Perry, whose past efforts with artists ranging from Fats Domino to Tiny Tim were much admired by Ringo.
On February 28th, Ringo and Maureen flew to the US, where he and Harry were co-presenters at the Grammy Awards in Nashville on March 3rd:
Foruitously, The Concert For Bangla Desh won the Grammy for Album of the Year that night, and Ringo was happy to accept on behalf of George and the other participants:
Two days later, he and Harry flew on to Los Angeles to begin work at Sunset Sound Studios on what would become the
Ringo
LP. During their stay at the Beverly Hills Hotel on March 10th, both
Ringo
and
Richard Perry
taped radio spots for an anti-drug campaign.
The industrious team, abetted by Klaus Voormann, Nicky Hopkins, and Jim Keltner, completed the backing for eight songs in just under two weeks. George dropped by to land a hand on his composition "Sunshine Life For Me (Sail Away Raymond)" and his co-write with Ringo, "Photograph".
But is was the events of March 13th that would make jaws drop at Sunset Sound and find the music world abuzz for weeks thereafter. John had been uncharacteristically quiet for several months while Yoko recorded and promoted her own album, Approximately Infinite Universe. They had arrived in Los Angeles in early February, ostensibly for Apple business (such as the Red/Blue albums, and to discuss Allen Klein's management contract, which was set to expire at the end of March), but John must have itching to play some rock and roll.
Naturally, he socialized with Ringo (they took their wives and Richard Perry to see
Last Tango In Paris
one evening) and was impressed by what he heard at the sessions, particularly George's numbers. So on the night of the 13th, he offered up a song he had been working on since 1970, "I'm The Greatest", which seemed perfect for the occasion.
With Billy Preston sitting in on organ, it was January 1969 all over again; John played piano and sang a guide vocal, while Ringo drummed, George played guitar, and Klaus filled in on bass:
Although Paul hadn't been present, and John flew back to New York the next day, rumors began to emanate from Los Angeles that all four Beatles were secretly recording a reunion album there. The craziness would only ratchet up a notch when Paul added his contribution to the album back in London the following month.